Thought for the Day
"Any situation, however it may appear, comes to lift you up, provided you are ready to get lifted." - PP Swamiji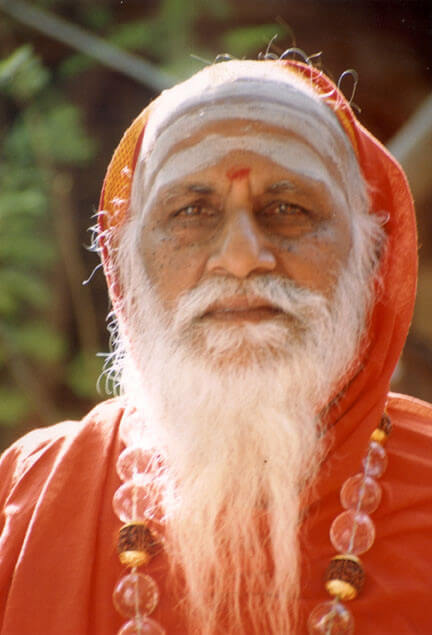 Parivrajakacharya Param Poojya Swami Shri Iswarananda Giriji Maharaj
has been striving tirelessly to infuse shradha, bhakti and the yearning to know one's true and unblemished Self in all His devotees around the globe. His Pravachans are an impeccable and alluring mix of simple prose, lofty thought, ageless quotes from the scriptures and gentle humour.
Swamiji blends beautifully the ancient and traditional aspects of vedic and upanishadic heritage with modernity so as to succinctly bring out the perennial meaning of true spiritual evolution. He believes that through individual awareness and soufful action a person can meet the challenges of life.
Invited by devotees from various places, Poojya Swamiji traveled almost the entire length of the country every year, delivering spiritual discourses. Over the years, these discources were released as books, Audio & Video CDs, which are now available on this website.
Poojya Swamiji embraced the monastic life immediately after the completion of his University education and was ordained into the Paramhansa Sanyasa order of Shri Adi Shankaracharya by Poojya Shri Swami Narsimha Giriji Maharaj, Mahamandaleshwar of Shri Dakshinamoorthy Math.
He studied Vedanta at his Gurusthana of Varanasi (Benaras) and did tapasya at various places in the higher reaches of the Himalayas including the Holy Mount Kailasha.
After 1961 Swamiji Settled down at Mount Abu in Rajasthan and founded the Samvit Sadhanayana - an institution dedicated to the revival of India's ancient spiritual culture and mystical traditions. The sadhanayana till date, conducts classes for children and camps for students and youths.
Swamiji shed his physical form on 8th Nov 2017, at Sant Sarovar Somashram in Mt Abu. Their Samadhi is at Ishwarashraya Ashram, Kacholi.
Inspired by the ideals of Samvit Sadhanayana, several of Swamiji's devoted disciples are running excellent centres in a sustained manner for the promotion of India's rich immortal spiritual heritage. Such centres are located among others at Ahmedabad, Jodhpur, Jhalore, Phalodi, Kacholi, Bangalore in India and Charlotte, USA.